The City of Norwich Aviation Museum
The City of Norwich Aviation Museum is based on the North side of Norwich airport.  This aviation museum is an excellent way to discover some of Norfolk's Aviation Heritage. It has a varied collection of aircraft ranging from The wonderful Jaguar to the Vulcan and many others interesting types.
The RAF Radar Museum is based at Neatished just outside the Broads village of Horning.  The museum explains the development of Radar from the World War 2 to the Cold War and beyond.  It is well worth a visit.
The Muckleburgh Collection
The Muckleburgh Military Collection is sited on the former Royal Artillery Anti-Aircraft training camp at Weybourne on the North Norfolk coast. It was opened to the public in 1988 and is one of the largest privately owned military museums in the UK.  It has a very varied content across all the three armed forces.  There is also a grass landing strip which is still in use.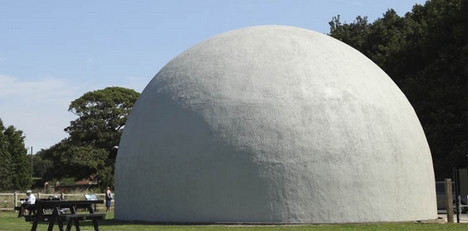 Built in 1942/3 on the edge of RAF Langham, the Dome utilised innovative technology to train anti-aircraft gunners. Long before digital reality was invented, moving images projected onto the inside of the building taught trainees how to shoot down enemy aircraft successfully.
Seventy years after the end of World War II, a visit to the Dome (a Scheduled Ancient Monument) offers a unique opportunity to journey back in time and experience what life was like for those who served at RAF Langham.
The 100th Bomb Group Memorial Museum
Although it is over an hours drive from the cottage, this Memorial is well worth it.  The old control tower is the star attraction of the museum dating back to 1942.  The history of the 'American Invasion' of this part of Norfolk  is well documented in the museum  with loads of fascinating information about the B17 Flying Fortress and the men and women that were based here.    More information here.