Norwich Castle is a medieval royal fortification in the Center of the city of Norwich.  Its construction was ordered by William the Conquer in 1067.
Today the castle hosts a Museum and Art Gallery.  The cafe has a great reputation too.
Click here for more information.
The most complete Norman Cathedral in England and one of the finest examples of Romanesque architecture in Europe, Norwich Cathedral is one of England's finest Cathedrals.
With over 900 years of history  the Cathedral building is awesome boasting the largest Cathedral Close and monastic Cloisters in the land.   Click here to find out more.
Catholic Cathedral of St John the Baptist
Located on Norwich's famous Unthank Road, the cathedral looks over Norwich.  It was built between 1882 and 1910 and has a beautiful interior.  More information on the website.
Norwich Market is a large spacious outdoor market with over 200 stalls for food, art & crafts vendors.  It dates back to the 11th century.
Elm Hill Shopping and Architecture
Elm Hill is a historic cobbled street in Norwich, with many buildings dating back to the Tudor period. It is a Norwich landmark and probably the most famous street in the area. It has tea rooms, shops and galleries and is well worth exploring.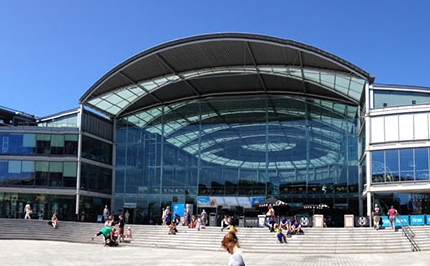 The Forum is a community building in the center of Norwich. It was built on the site of the previous Norwich Library which burnt down in 1994.  The Forum was  built as a millennium project being finished in October 2001.
Click here to find out whats on.
The Sainsbury Centre for Visual Arts
Housed within a Norman Foster designed building.  Ancient, modern and ethnographic art collections are exhibited in light-filled, modernist spaces.  The gallery contains Bacon, Giacometti & Moore masterpieces.  More information can be found here.
Norwich Theatre Royal is the largest and most successful theatre in the East Anglia. Performances range from shows for pre-school age children to grand opera, and everything in between.  Click here to see their website.
St Peter Mancroft is a parish church in the center of Norwich, opposite the Forum. After the two cathedrals, it is the largest church in Norwich and was built between 1430 and 1455.