Burrow Cottage
Cosy Quiet and Comfortable
Nestling in the quiet Norfolk countryside , Burrow Cottage provides a fantastic location for a relaxing break.
Burrow Cottage is a delightful property lovingly converted from a 220 year old farm building.  The property is adjacent to Warren Barn, a 250 year old converted threshing barn.  The buildings are very secluded, nestling at the end of a ½ mile private drive and overlook a 5 acre field which is grazed by a flock of rare breed Kerry Hill Sheep.  Burrow Cottage is our only holiday cottage as a result you wont be tripping over other holiday guests during your stay.
The cottage sleeps 2 guests and is perfect for those who enjoy walking and cycling, and of course relaxing.  The coast is just 3 miles away with miles of sandy beaches to enjoy.
Bring your dogs they are most welcome.  You can step out of the front door and have access to miles of public footpaths and quiet green lanes.  The locality is blessed with some lovely rural pubs, excellent for a relaxing drink or a meal.
The cottage is ideal for a small baby in arms but it is NOT suitable for toddlers because of the solid brick flooring and slate stairs.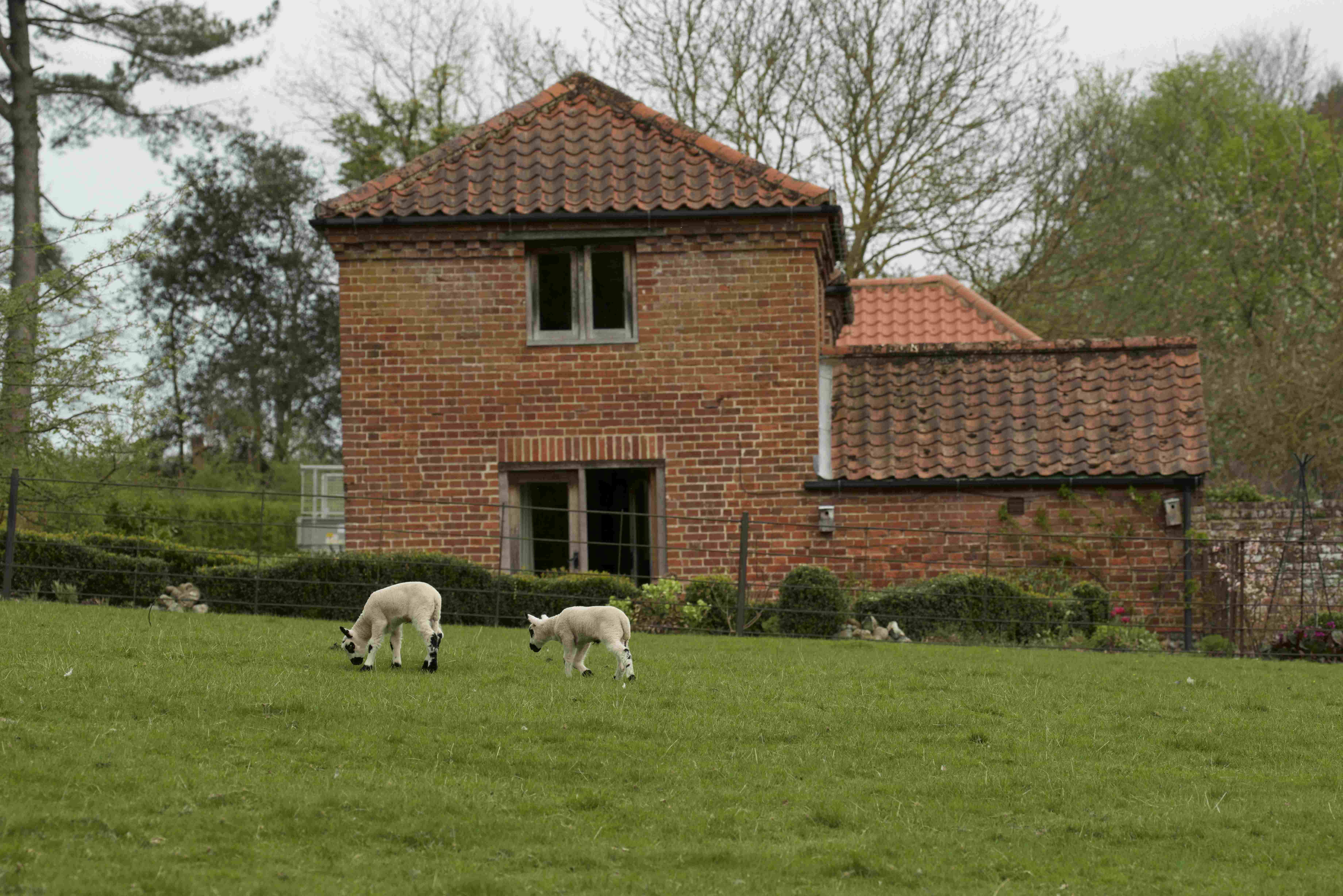 The open plan living room has a table with 3 chairs,  a comfortable sofa and a coffee table.  There is a wall mounted  TV which receives all Freeview channels and is internet connected providing BBC I-Player and other catch up services. WiFi is provided throughout the cottage.  In the winter there is a wood burning stove to complete the cosy atmosphere.  We provide the first basket of logs for the woodburner, additional wood and kindling is available for a small charge.  Please note that we do not charge for electricity!
The Kitchen has an electric oven / grill and a 2 plate electric hob, this is complimented by a microwave , toaster and an electric kettle.  Built into the units is a dishwasher and fridge with a freezer compartment.  All the cooking and eating and drinking utensils are provided.  As can be seen from the photograph the floor is made of vintage floorbricks that were recovered during the conversion of the barn.
Climb the slate stairs and there is an open plan bedroom.  Please be aware that the stairs are quite steep making the cottage unsuitable those with mobility issues.
The cottage has a kingsize double bed and duvet with 2 bedside tables each with a bedside lamp.  The bedroom has 4 windows, one overlooks the field, one the woodland and the other 2 overlook the courtyard.  You can lie in bed and see across the field towards a wood some 150m away.  It is not unusual to see deer grazing the lower fields.
When you arrive you will find clean linen on the bed as well as bath and hand towels.  There is a dresser with a mirror and plenty of storage space.
The shower room is downstairs containing a toilet, basin and power shower.  There is a powerful fan heater to take the chill of the air if required.  We supply clean towels for your stay.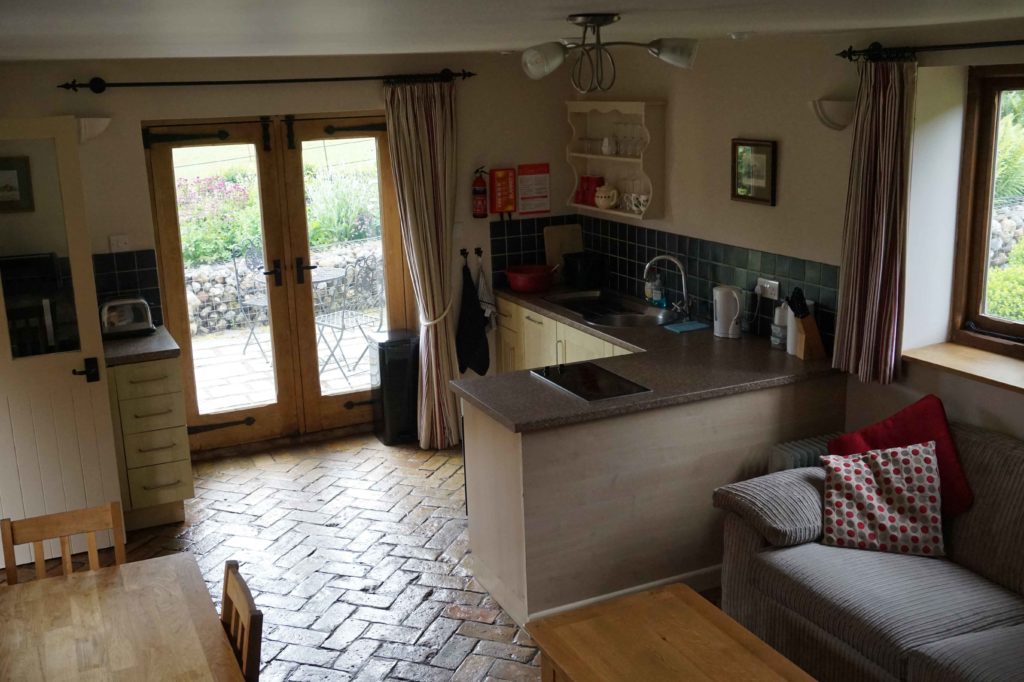 All the windows in the cottage are made from solid oak and are double glazed.  From the kitchen are large French Windows which open onto a small terrace and the enclosed garden.
The terrace is surrounded by flint filled gabions which retain a delightful cottage style garden.  The terrace is constructed from Cornish Slate as are all the paths around the barn and cottage.   The slate came from the Trevillett Quarry near Tintagel in Cornwall.  There is an outside table with a couple of chairs to relax and hopefully enjoy the sunshine!
The gardens around Burrow Cottage deserve a special mention.  They are designed and maintained by Steph who runs her own garden design business from the barn.
The gardens look fantastic from spring to Autumn.  Speak to Steph she may give away some of her secrets!
The South Facing Wall Garden
This year one of the bird-boxes was home to a pair of blue-tits whose offspring  successfully fledged.  The 2 trees are espalier apricots which are being trained across the wall.  These 2 trees form part of Steph's collection of over 7 varieties of apricot that are planted around Warren Barn.
The courtyard garden maintains its colour and interest throughout the year.  The Garden is framed by formal style box hedging. 
Burrow Cottage's front door leads directly from the courtyard.  We use a number lock so that you don't have to worry about losing a key!
Dedicated Parking Slot and EV Charger
Visitors to Burrow Cottage have a dedicated concrete parking slot.  It is off road parking – by about 1/2 mile!  We provide a type 2 EV charger with rates up to 7KW. For more information click here.
  Burrow Cottage is found through the courtyard garden.  At night lights, automatically come on to light your way.  It is dark here, the view of the night sky can be amazing with very little light pollution.
These hares which can be seen are in the courtyard were made by Steph's cousin Suzie Marsh .  Also made by Suzie are the  hippo's  in the courtyard pond and many other sculptures located around the garden.   See more of Suzie's sculptures here.
We are dog lovers and are happy to accept up to three dogs at Burrow Cottage.  The Burrow Cottage garden is enclosed.  We do however, ask you to keep your dogs on a lead when near the sheep. 
Through the gate from the parking area is a public footpath; left takes you to the woods and right to fields and tracks. It is the ideal area for dog walking.   Give your dog a holiday too!
The concrete track was built by Pete and Steph using up much of the hardcore waste from the barn conversion – It is over 1/2 mile long.   It was a massive project taking over 6 months to complete.  The track looks amazing in the spring when it is lined by hundreds of daffodils that Steph has planted.
Click here to see more about our barn conversion project.
Burrow Cottage might be remote but Gunton Station on the Bittern Line is only around 15 minutes walk.  Regular services to Norwich, Wroxham, North Walsham, Cromer and Sheringham are available.
There is also a bus service from Trunch called the Coasthopper.  This service goes to Cromer, Sheringham, Holt in one direction and North Walsham in the other.
Burrow Cottage is 3 miles from the Norfolk Coast between Cromer and North Walsham some 20 miles North of Norwich.  The cottage is part of a small holding at the end of a ½ a mile track.  The entrance to the track is from Brewery Road  which is just over a mile from the village of Trunch.  There is a large sign at the start of the track saying "Warren Barn".    It is quiet – apart from the occasional bleat from the sheep.  Click here to see a short video of where Burrow Cottage is in relation to the coast.

Pete and Steph are keen cyclists.  Burrow Cottage is the perfect location for those  wanting to explore Norfolk's country lanes and un-spoilt countryside.  We provide covered bike storage, a good quality bike pump tools etc.  
We have a small flock of Kerry Hill sheep.  These rare breed sheep graze the field next to the Barn and Cottage.  We lamb each year in April – it is a wonderful time to visit and enjoy your very own Lambing Live!
The cottage has a comments book which many of our guests have been kind enough to complete with comments about their stay.